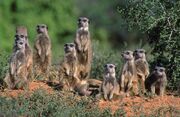 The Yu-gi-oh Mob was founded in July 2007 by 3 wild females and 2 wild males.
Dominant Pair
Edit
Wild female Dark Magician Girl and wild male Dark Magician Filled the positions of the dominant pair. After their deaths in May 2015 Apprentice Illusion Magician and a wild male Magician Of Black Chaos became the dominant couple.
The Yu-gi-oh mob has 31 members as of February 2019.

Apprentice Illusion Magician (VYGF200) Dominant Female
Magician Of Black Chaos (VYGM201) Dominant Male
Dark Sage (VYGM156)
Celtic Guardian (VYGM177)
Harpie Lady 2 (VYGF179)
Berry Magician Girl (VYGF180)
Blue Eyes White Dragon (VYGM183)
Red Eyes Black Dragon (VYGM185)
Obelisk The Tormentor (VYGM197)
Slifer The Sky Dragon (VYGM198)
The Winged Dragon Of RA (VYGM199)
Apple Magician Girl (VYGF202)
Chocolate Magician Girl (VYGF203)
Lemon Magician Girl (VYGF205)
Thousand Dragon (VYGM206)
Time Wizard (VYGM207)
Baby Dragon (VYGM210)
Kiwi Magician Girl (VYGF211)
Silver Fang (VYGM212)
Relinquished (VYGM213)
VYGF214
VYGF215
VYGF216
VYGM217
VYGM218
VYGP219
VYGP220
VYGP221
VYGP222
VYGP223
VYGP224

All members who were born in or joined the Yu-gi-oh Mob