My Profile
Edit
RaptorKillerX-Venture

Member Since:

2013-10-27

Number of meerkat mobs created:

50+

Number of meerkats created:

200+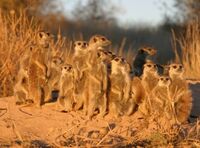 Hello everyone, my real life name is
Steven/Michael
, but you can just call me
Raptor
. I'm the one on the left of the picture for your information.
I watched Meerkat Manor for the first time when I was about 12 years old and I was immediately hooked onto it. I'm still a fan today since the show's cancellation.
Location: Extreme Desert
Meerkat Researchers: MRED = Meerkat Reaserchers Extreme Desert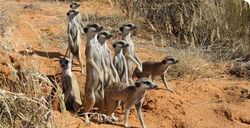 I'm currently deciding whether or not about making a fanfiction story using my mobs that I have.
Edit: I decided that I would write several fanfics regarding my mobs and the history of MRED.
This is list of mobs that I'm currently working on or have been completed.
Current Mobs Edit
Lost Mobs Edit
Mystical Mob (January 1990 - April 1990) ✓ Completed (VML?000)
Plague Mob (January 1990 - June 1990) ✓ Completed (VPG?000)
Vexillatio Mob (1992 - 1999)
Not Determined Mobs Edit
(Not sure what to do with these)
---
Megas Mob (December 1990 - (VMS?000)
---
---
Gazelle Mob (January 1992 - (VGZ?000)
Invincible Mob (January 1991 - (VIN?000)
Element Mob (January 1991 - (VET?000)
Diary of Joshua Evans
Edit
Joshua Evans is one of the leading members of the meerkat research group (MRED).
Community content is available under
CC-BY-SA
unless otherwise noted.