Tina Sparkle Whiskers

Mob(s)

Dominant

Formerly of the Ocicats

Date of Birth

September 27, 2004

Parents

Mozart and JD

Litter-Mate(s)

Spud, Sparkle and Pozzie

Mate(s)

Buta

Children

Rina Sparkle, Dina Twinkle, VCOP001, VCOP002, VCOP003 and VCOP004

Known For

Being evicted by Khasar
Whiskers
Tina Sparkle(VWF076) was born on September 27, 2004 in the Whiskers. Her mother was Mozart and her father was JD. Her litter-mates were Spud(VWM078) and Sparkle(VWF077) and Pozzie(VWM079). They were Mozart's first litter. They survived to adulthood. Tina Sparkel and her sister often babysat for Flower's pups. After Flower died, Rocket Dog became dominant female. Tina Sparkle was evicted and left with Suggs. They joined four wild meerkats.
Hoax
the new group was called the Hoax Mob. Tina Sparkle lost dominance to Mau Mau the dominant female. Tina Sparkle got rpegnant but lost her litter. She was never able to produce a litter in the Hoax. She babysat often and was evicted and attacked by Mau Mau. She was finally evicted in March 2009. She was Last Seen but she reappeared with her younge sister Ju Drop and unknown female Zula. They soon joined some Commando males and one pup named Sophie and formed a new group.
Xerxes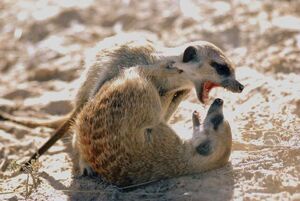 The new group was called the
Xerxes
. Tina Sparkle lost dominance to Zula. A male named
Zorro
became the dominant male. She lost her litter to Ju Drop. Zula gave birth to the first pups. Ju Drop gave birth to a litter too.
Khasar
was seen pickign on her pups. He strated this the first day he babysat. On June 17, 2010 Tina Sparkle gave birth to
Dina Twinkle
and Rina Speckle.Khasar was seen bitting Dina Twenkle when she was a day old. Khasar would carrying the pups around and from bolt hole to bolt hole. Tina Sparkle would go and get them and bring them back to the birth burrow. She trailed him and would carry one of her pups back tot he birth burrow while Khasar went and grabbed the other. Tina Sparkle finally attack Khasar. He fought back and, in a never before seen evnet, evicted her from the group. She was got from the group of two days before she rejoined. Her pups barely survived, none of the other females could feed them. When the pups started foraging Khasar stole food from them. In November the group split.
Ocicats
The new group was called the Ocicats Mob since they didn't rejoin the main group. Tina Sparkle took over as the dominant female along with Buta. Tina Sparkle gave birth to VCOP001, VCOP002, VCOP003 and VCOP004 on January 15, 2011. That month Ju Drop over threw Tina Sparkle and became the new dominant female.
Family
Mother: Mozart
Father: JD
Sister: Sparkle
Brothers: Spud and Pozzie
Daughters: Dina Twinkle and Rina Speckle
Links
Community content is available under
CC-BY-SA
unless otherwise noted.