Tigers Mob

Date of Forming

November 16, 2010

Founders

Mertle, Maroon, Tammy, Anna, Beej and Dennmark

Dominant Female(s)

Mertle

Dominant Male(s)

Maroon

Current Dominant Female

Mertle

Current Dominant Male

Maroon

Number of Members

10

Evicted Meerkat(s)

None

Roving Meerkat(s)

None

Pup(s)

4

The Tigers was formed by three evicted Young Ones females who teamed up with three Kung Fu rovers. Mertle and Maroon took dominance of the new group.
Dominant Pair
Edit
When the group first formed Mertle the oldest female took domiance along the oldest Kung Fu male Maroon.
Current Members
Edit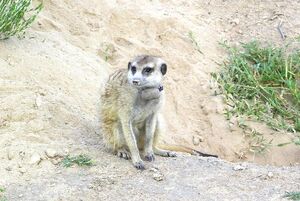 The Tigers have 10 members as of December 2010.
Martle (VYF144) Dominant Female
Maroon (VKUM014) Dominant Male
Tammy (VYF152)
Beej (VKUM016)
Anna (VYF153)
Denmark (VKUM023)
VTGP001
VTG002
VTG003
VTG004
All Known Members
Edit
Martle (VYF144)
Maroon (VKUM014)
Tammy (VYF152)
Beej (VKUM016)
Anna (VYF153)
Denmark (VKUM023)
VTGP001
VTGP002
VTGP003
VTGP004
The Tiger's rivals are the Kool Kats, Warthog and the Eagles.
Novemeber 2010: Mertle, Tammy and Anna joined Marron, Beej and Denmark. Martle and Maroon took dominance. Tammy was pregnant.
December 2010: Mertle and Anna were pregnant. Tammy gave birth to four pups.
January 2011 Anna was evicted and aborted Mertle gave birth 1 encounter with Mongooses
Febuary 2011 De La Ray mated with Tammy 1 encounter with Dragons
March 2011 Tammy aborted Anna mated with S.S. Dolphin Mertle was pregnent
April 2011 Anna and Mertle are pregnent. Beej went roving and teamed up with Boots. He is with her at the end of the month
May 2011 Anna gave birth to five pups. Three were predated and one was killed by Bejej's group Dennmark went roving. Mertle is still pregnent
Community content is available under
CC-BY-SA
unless otherwise noted.