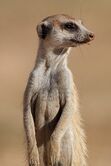 thuneús is born in the balancers mob.
that sounds strange, of course!
this is the reason: his parents died after he was born.
he was only able to start roving for females when 3 weeks old.
he found 5 females and one of them let him fall in love: alpha.
thuneús and alpha created a group named the balancers.
his pups are named omega, equardo and someone.
someone will soon be dominant male i think. because thuneús and alpha are getting a little weaker.
OTHER ARTICLES I LIKE: