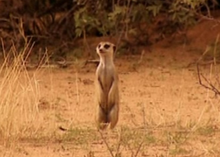 Sophie Amerson (VAF018) is the current dominant female of the Amerson Mob. She was born on June 22, 2012 to Rose and the current dominant male Squeak. She had two brothers in her litter: Apollo and Oakland. Oakland was predated when he was six months old but Sophie and Apollo survived. She grew up in the family taking care of her mother's pups. In 2014 four males from the Kung Fu mob invaded the family and kicked Squeak out of power. Her father left the family to go roving and never returned and Rose was now the mate of Dexter Kung Fu. On August 21, 2014 Rose attacked Sophie and evicted her for the first time, due to her being pregnant. She aborted the litter and was forced to live a live of solitude for a few weeks. She was allowed to return after her mother gave birth. She was evicted again in 2015 due to being pregnant, but she aborted the litter and was once again was allowed to return after Rose gave birth. Her mother was leading the mob across the road but was unfortunately was hit and killed by a car. This meant that a new dominant female was needed. She took the position of dominant female due to her being the oldest female (at four years old) on August 2 2016 and was also collared that day. Also on this day their rivals: The Bikini Bottom Mob. Sophie proved her capability as dominant female when she pushed back the larger mob and protected her family for the first time showing her true dominance over the territory. She is now the current dominant female and if all things go well Dexter could remain the dominant male of the group and become Sophie's mate. But at this time it's unknown what will happen to the family.
Community content is available under
CC-BY-SA
unless otherwise noted.