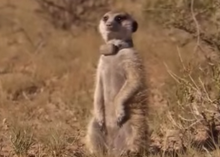 Scorpio Amerson (VAF016) was born on January 21, 2011 to Lilly the dominant female of the Amerson Mob. Her father was a roving male (Monkey) from the Topaz Mob. She had two litter-mates: Demi (VAF015) and Markokaka (VAM013). They all survived to adulthood. In 2012 Lilly died from a Cape Cobra bite. Rose became the dominant female after that. Scorpio remained a subordinate for almost two years before becoming pregnant due to rovers in early 2014. She along with her older sister Justice, litter-mate Demi, and younger sister Buttons were all Evicted. All the females aborted their litters after that.
Waltons
The four evicted females met up with two old roving males and they formed the Waltons Mob. The fight for dominance lasted for months until Scorpio and Chiliwack took the dominant positions. She became the first dominant female of the Waltons. The family at the time was starving and didn't have enough food to feed themselves but that didn't stop Justice and Scorpio from getting pregnant at the same time. Justice gave birth on August 21, 2014 but her pups were killed by a starving Scorpio two days later. Soon after that the family was able to find good feeding grounds. On August 28th, Scorpio gave birth to three pups. Five weeks later Scorpio was leading the family out foraging and she was hit by a car. Her pups survived to adulthood and Demi became the next dominant female.
Only Litter born on August 28, 2014, Fathered by Chiliwack
Puta (VWAF001), Death (VWAM003), and Tiburon (VWAM004)
Community content is available under
CC-BY-SA
unless otherwise noted.