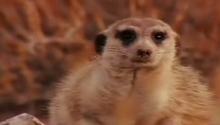 The Roborovski Mob is a new mob formed in early 2016 (January 17) with two old females Radio and Droplet from the Topaz Mob and a roving male Timon (VROM001) with unknown origins. Radio took the position of dominant female and was given a radio collar. Radio has since given birth on March 20th, May 29th, and gave birth on August 14. This is very weird due to her old age and these are also her first litters. Due to the family's small size it hasn't been able to make a sound territory and has been chased off by other mobs such as the Sadness Mob, Topaz Mob, and even the large Crystal Mob who luckily didn't give a full chase or else this family would've been wiped out. The family currently has 14 members, which includes four pups and three teenagers. It's currently unknown if the family will survive throughout the year, but the way things are going it could be very possible.
Dominant Female: Radio Topaz
Dominant Male: Timon (VROM001)
Droplet Topaz
Ketalar (VROM002)
Benny (VROF003)
Ethene (VROF004)
Dasher (VROM003)
Miss Rock Band (VROF005)
Annie (VROF006)
Arena (VROF007)
Four Pups
Community content is available under
CC-BY-SA
unless otherwise noted.