Pilko
(VKUF015)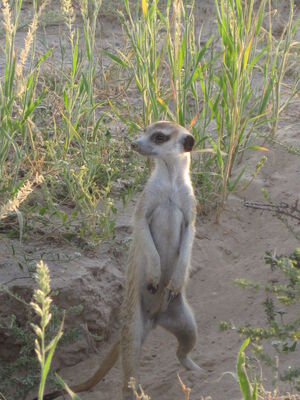 was born in the
Kung Fu
on November 9, 2008. Her mother was Kleintjie and her father was Ningaloo. She had six litter-mates Princessco(VKUF013), Maroon(VKUM014), Beej(VKUM016), Bean(VKUF017), Oiley Doyley(VKUM018) and Littl'un(VKUF019). There were seven pups in total! All seven pups survived through their first year. Pilko started to babysit, keep gaurd post and started mating with rovers. Her mother started to evicted her and her sisters along with the other females. After some of the ledest females left the group including Princessco, Pilko became one of the eldest females in the Kung Fu. Her sisters Bean and Littl'um were often evicted and in mid 2010, Pilko was evicted along with her litter-mate sisters Bean and Littl'um and theyr younger sisters Martini, Wales and Goose. They did not rejoin the group but instead teamed up with five
Lazuli
males.
Untouchables
Edit
The males stayed wit the females and formed a new group known as the Untouchables Mob. The eldest of the Lazuli males Twister became the dominant male. Pilko was amoung the oldest females in the group however her sisters Bean and Littl'um were of the same age. All the females competed for the dominant female position, however the main fight was between Pilko and her sister Bean. All the females became pregnant after mating with the Lazuli males. Finally Pilko was able to take dominance after Bean lost her litter. Pilko gave birth to VUTM0001, VUTF002, VUTF003 and VUTM004 on November 12, 2010. All four pups survived and it wasn't long before Pilko was pregnant again. On March 26, 2011 she gave birth to VUTM005, VUTM006, VUTF007 and VUTF008. Then on June 24, 2011 Pilko gave birth to VUTP009, VUTP010, VUTP011 and VUTP012. Pilko sadly died, leaving her sister Bean as the dominant female.
Community content is available under
CC-BY-SA
unless otherwise noted.