Nugget Whiskers

Mob(s)

Dominant

Yes of the Troopers

Date of Birth

November 3, 2007

Parents

Litter-Mate

Mate

Children

Known For

First Dominant Male of the Troopers
Whiskers
Edit
Nugget(VWM123) was born on November 3 2008 in the Whiskers. His mother was Rocket Dog the dominany female at the time and his father was rover Homestar Runner. His litter-mate was his sister Beaker(VWF124). They had one older half sister named Black Cat. Ella and Butch Cassidy almost got the two pup killed by the Aztecs but they survived and made it home. Amira gave birth to Juno and Ella gave birth to Marico, Oriole and Sabota. In late 2008, his mother Rocket Dog was killed by a vehicle, and his aunt Ella became the new dominant female of the Whiskers group. He and his sister survived to adulthood. Beaker left the group with Wiley Kat and Amira and joined Petra and Cheetara. They formed the Iguana. Nugget stayed in the group a littled longer. Then he left with his cousins, Juno, Marico, Sabota and Savuka. They roved at other groups, Kung Fu and Aztecs mostly. Then they ran into four evicted Commandos females. They stayed together and formed a new group called the Troopers.
Nugget was the oldest of the Whiskers males so he took male dominance of the new group. Yara and Sera were the same age but Yara was much bigger so she won dominance over her sisters. Yara and Nugget started to produce pups though she allowed her sisters' litter to live. On Febuary 22, 2009 Yara gave birth to Booster, Scooter, Scooper and Blooper. They were his first litter ever and the first born in the Troopers. The Barbarians raided the babysitting burrow a few weeks later but the Troopers chased them away. All the pups survived. Sera sister also gave birth on May 21, 2009 to Shear, Sammy, Samantha and Sean. On October 30, 2009 Yara gave birth to their second litter Punker, Gothic, Darka and Darko. On March 20, 2010 Yara gave birth to three pups. She evicted her sisters Sera, Kili and Cho but allowed them back into the group. Sera challenge her sister for dominance but lost. Yara's three sisters soon left and formed the Warriors Mob. In August 2010 Yara gave birth to a litter of six pups fathered by Nugget. Yara and Nugget are still the dominant pair today and had been for two years now.
Mother:
Rocket Dog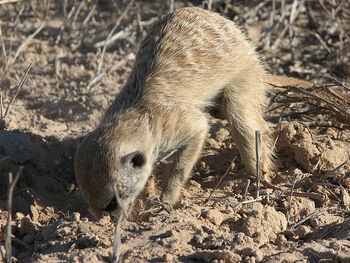 Father: Homestar Runner
Sisters: Beaker
Older Sister: Black Cat
Mate: Yara
First litter born Febuary 22, 2009 on mothered by Yara
Blooper (VTPF001)
Scooter (VTPM002)
Scooper (VTPM003)
Booster (VTPM004)
Second litter born on October 30, 2009mothered by Yara
Punker (VTPM009)
Darko (VTPM010)
Gothic (VTPM011)
Darka (VTPM012)
Third litter born on March 21, 2010 mothered by Yara
VTPM015
VTPF016
VTPF017
Fourth litter born in August 2010 mothered by Yara
VTPP018
VTPP019
VTPP020
VTPP021
VTPP022
VTPP023
Community content is available under
CC-BY-SA
unless otherwise noted.