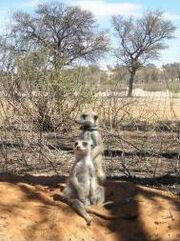 Moraguse
(VAF005) was born in the
Avatar
. She was First Seen on January 24, 1994 but she was probably born a year or two before hand. She was eivcted along with another female and formed the
Young Ones Mob
with twi Drie Doring males. Morgause and Keros became the long-term dominant pair. She had many litters in her long reign. She gave birth to Stinker, Holly, Aragorn, Jim Bob, Asterix and many others fathered Keros. Sadly Keros died in 2001 or 2002. Her sosn took over as dominant male but many left and joined the Vivian. Then an Elveera rover named Sprite joined the group. He remained her dominant ,male for two years then Morgause died in 2004. Veda became the dominant female but she was soon predated and her and Keros' daughter last Asterix took over as the dominant female. Today her grandduaghter leads the Young Ones.
Community content is available under
CC-BY-SA
unless otherwise noted.