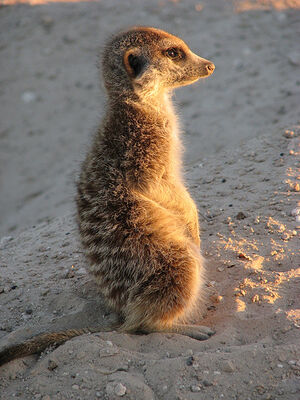 Marmite(VAZM001) was born in the Aztecs on December 26, 2007. His mother was Monkulus and his father was Homestar Runner. His litter-mates were his brother Piglet(VAZM004) and two sisters Tofu(VAZF002) and Abaca(VAZF003). They were the first litter ever born in the Aztecs. Marmite and his litter-mate mananed to make it threw their first year. The Aztecs were a small mob, however their mother Monkulus soon produced another litter. Marmite was old enough to help ot with the new pups. He started to take sentry post and soon started to go roving with his uncle Alonzo Mourning. He lived in the Aztecs for three years.
Underdogs
Edit
Then he joined the Underdog group. Zaphod and Fire Fox took up dominance. Marmite was the next oldest male but unable to take dominance within the group. He remained in the Underdogs for a few months before leaving with his younger brothers. The males met up with the evicted females from the Underdogs and formed their own group.
Hells Angels
Edit
The new group was called the Hells Angels. Marmite was the oldest, biggest and strongest of the males so he easilly established dominance. One of the females named Mozilla became the dominant female and his mate. They soon started to produce litters. Marmite is still the dominant male of the Hells Angels today.
Community content is available under
CC-BY-SA
unless otherwise noted.