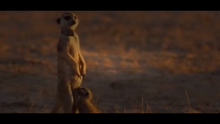 Lilly Amerson (VAF002) was born on April 3, 2005 in the Amerson Mob. Her parents were the dominant female Bertha and the dominant male Galaxy. She had one litter mate named Sabor (VAF001). Sabor was killed by a Jackal when she was only 4 months old. Lilly spent her first couple of years as a subordinate babysitting her mother's pups. In 2007 she fell pregnant to rover. Her mother was also pregnant at the time. Lilly's younger sisters Sissy and Belle also fell pregnant to the same rover around that time. Belle gave birth in a bolt hole. Belle attempted to raise the pups but Lilly discovered them and killed them. Lilly gave birth and her sister Sissy killed them. Sissy gave birth but Bertha killed her pups. After that Lilly, Sissy, and Belle were all evicted. The 3 females stayed together but Sissy and Belle went missing. Lilly returned to the group after her mother gave birth. Lilly fell pregnant and was evicted again in 2008. In 2009 she gave birth to her first surviving litter due to her mother being to old to give birth, the father of the litter was a roving male from the Topaz Mob. She and her sister Kira had a mix litter of 7 pups in 2010 and afterwards her mother died of old age. Then tragedy struck, when the Topaz Group, led by the famous Mila Topaz, led an attack on the borrow and killed the 7 pups while they were only 3 weeks old. Lilly became the dominant female of the Amerson Mob. She only mated with rovers due to the males in her group not allowing permanent mates. During her pregnancies, she was able to evict all of the adult females in the gang, except Rose. In 2012 she was bitten by a Cape Cobra defending her burrow, and died shortly after. Her sister Rose Amerson became the dominant female. Her daughters: Scorpio, Demi and now Justice have all been dominants but not of the Amerson Mob but instead the Waltons Mob.
First Litter born on January 2, 2009, Fathered by Peanut Topaz
Squeak Amerson (VAM008) and Justice Amerson (VAF011)
Second Litter born on February 21, 2010, Mix litter with Kira
VAM009, VAM010, VAM011, VAM012, VAF012, VAF013, VAF014
Third Litter born on January 21, 2011, Fathered by Monkey Topaz
Demi Amerson (VAF015), Markokaka Amerson (VAM013), and Scorpio Amerson (VAF016)
Fourth Litter born on March 15, 2012, Fathered by an Unknown Rover
Buttons Amerson (VAF017) and Hutch Amerson (VAM014)
Community content is available under
CC-BY-SA
unless otherwise noted.