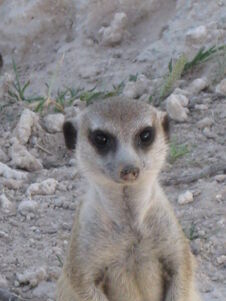 Kenny(VJHM005) was first seen on October 9, 2010 in a wild group that was named the Johnny 13 Mob.He wasn't the dominant male but a wild rover named Johnny.The group was founded by wild meerkats Misty, Kitty, Dani, Kat, Mary Pat and a wild rover named Johnny Johnny 13. Two Embers males named Danny and Peter joined the group. Johnny and Kitty became the dominant pair. On October 22, 2010. Kitty birth to Mickey,Lady Day,Bindi and Kite .Sadly Kite was killed by hawk at the end of the month. That same month Johnny lost dominance to Danny.He and Johnny began to rove at other groups for mating opportunities. Kenny and Johnny went roving at the Embers. Kenny found Patty and tried to mate with her but she wasn't even a year old so she chased him away with the help of Sean while his mating parnter Johnny found Maddie and mated with her and went with Maddie back to the Embers and became the dominant male after he overthrown Java.Kenny returned to the Johnny 13. In March he went roving at the Embers and mated with Patty. The Next month Kenny with roving again, this time with Peter at the Cobras. In December 2011 he left the group and joined the Whiskey Mob and became the dominant male there alongside his new mate Missy while Paul was out roving. He is still the dominant male today.
Community content is available under
CC-BY-SA
unless otherwise noted.