Izzy Whiskers

Mob(s)

Whiskers, Diggers, Isikaras, and Gummy Bears

Dominant

Of the Gummy Bears

Date of Birth

September 2,2006

Parents

Flower and Zaphod

Litter-Mate(s)

Busta and Suggs

Mate(s)

Fritz

Children

Teacup Isikaras, Husk Isikaras, Harry Isikaras, etc.

Known For

Flower's Last Daughter
Izzy (VWF110) was born on September 2, 2006. Her mother was Flower and her Father was Zaphod. Her littermates were her brothers Busta (VWM111) and Suggs (VWM109). Izzy's litter was the last surviving pups of Flower. When she was a pup the Zappa attacked the burrow where Sophie was babysitting her and her brothers, the Whiskers arrived and sent the Zappa off. Both Izzy and her brothers all survived to adulthood. In January 2007 her motherly sadly died and her older half-sister Rocket Dog became leader. Her brother Busta left to help form the Aztecs and Suggs helped form the Hoaxs. Izzy was evicted in Early 2007 along with Sophie, and her older sisters Kim and Sundance.
The four females joined with rovers and the oldest female Sophie took over as dominant female. Izzy helped in the group as a babysitter with Sundance. In November 2009 she was evicted with Sundance by Sophie and left the group.
The two females were joined by three Rascals males. Sundance was the oldest and became dominant female and Indus became dominant male. Izzy served as a very useful babysitter. She gave birth to her first litter by a rover in October 2010, and Sundance let her keep her two pups Teacup and Husk. Later on Izzy gave birth to a litter of three males, but all but one pup were killed in a burrow raid by Sly-eye. Izzy shortly was evicted for the first time when Sundance was pregnant but was let back into the group. Izzy stayed in the group and got pregnant again in April of 2012, in May she gave birth to a litter of seven but was accidently left behind when Sundance had the group move burrow. Fritz and her three older pups returned to the burrow and they formed a new group.
Gummy Bears
Edit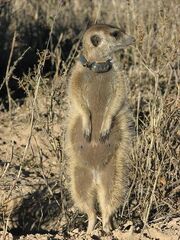 The new group was called the Gummy Bears. As she was the oldest female and mother to the others, Izzy became the dominant female. Fritz became the dominant male despite he couldn't breed with Izzy currently, the small group is struggling to raise Izzy's seven pups. Sadly, all but three of Izzy's pups survived, two pups died in a burrow raid by the Vyrwolves, and two more died from predation. Izzy is still the dominant female today.
Mother: Flower
Father: Zaphod
Brothers: Busta and Suggs
Mate: Fritz Rascals
Daughter: Teacup
Sons: Husk, Harry
Community content is available under
CC-BY-SA
unless otherwise noted.