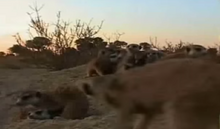 In June of 2008, two females of Topaz origin (Granny and Pam) and four Rugrat males: Stuart, Andrew, Chaz, and Howie, all came together to form the Ingalls Mob. Chaz and Granny assumed the position of dominant male and female. Granny began producing litters quickly, and for two years she produced many pups. Pam passed away in 2009 due to unknown causes. After Granny's death, her daughter McDonald became the Dominant Female, and her uncle Stuart overthrew her father so he could become her mate. The family currently has 21 members. The family's rivals include the Topaz Mob, Amerson Mob, Bikini Bottom Mob, Waltons Mob and most importantly the Crystal Mob.
Community content is available under
CC-BY-SA
unless otherwise noted.