Homestar Runner Young Ones

Mob(s)

Dominant

Yes of the Vikings

Date of Birth

August 15, 2005

Parents

Asterix and Alexander

Litter-Mate

Philippe and Stiches

Mate(s)

Rocket Dog, Monkulus, Ella and Amira

Children

Known For

First Dominant Male of the Aztecs
Young Ones
Homestar Runner(VYM130) was born on August 15, 2005 into the Young Ones. His mother was Asterix and his father was Alexander. He ahd one litter-mate brother Philippe(VYM129). and a sister Stiches (VYF131) He and his siblings survive their first year.The group's numbers dropped as Asterix was not very productive during that time.She evicted many females. In 2007, Homestar Runner and his brother began to rove. Three years after Homestar Runner was born, the group's numbers were reduced to only seven members. In the next month, he left the group.
Aztecs
In September of 2007, Homestar Runner was roving and came across theAztecs Mob, consisting of Monkulus the dominant female of a smalled group of eight memebers. They was onlyone young male. Homestar soon joined the group, taking the position of dominant male next to Monkulus. Homestar stayed dominant for a month before a group called the Incas Mob, which were formed up of five males that split from the Whiskers Mob. The five males, led by Zaphod, ousted Homestar, and chased him off. Zaphod, the oldest, then took dominance after Homestar Runner. Monkulus later gave birth to his pups Marmite(VAZM001), Tofu(VAZF002), Abaca(VAZF003) and Piglet(VAZM004).
Chuckle Bros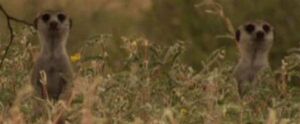 After begin chased away by the Incas Mob, Homestar Runner returned to the Young Ones. His mother died and soon after, four males join the group, kicking out Alexander, Homestar Runner and his brother. His father died sadly. Homestar Runner soon roved at the Whiskers, where he might have mated with some females. He mated with Rocket Dog the dominant female. She gave birth to two pups
Nugget
(VWM123) and
Beaker
(VWF124). He also mated with Amira and Ella. Wiley Kat's pups were fathered by Philippe since Homestar Runner was busy matign with Ella. Homestar Runner and Philippe now had join the
Chuckle Bros
. The Chuckle Bros is a term used for male meerkats who left have group to rove and are not in a breeding group. The two brothers attemped to joined the Whiskers a few time but they were chased away by the males. One of them was Axel who really their younger brother who was adopted by the Whiskers. Homestar Runner got in a fight with him but ran away despite being bigger then Axel. Homestar Runner soon returned to his birth mob after the wild males disappeared. Homestar Runner and his young sister Lotte assumed dominance. His brother Philippe left and joined the
Iguana Mob
. Homestar Runner remained in the Young Ones but then a Firsky male named Allegro joined the group and became the new dominant male. Homestar Runner went roving with Lenny, Stan and Lewis. they joined Hobbits females and formed a new group.
Links
Community content is available under
CC-BY-SA
unless otherwise noted.