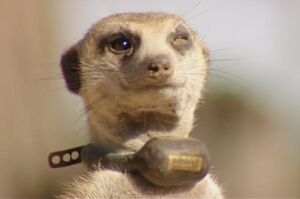 Hannibal(VVM071) was born in the Vivian group on October 17, 2001. His mother was Rhian and his father was Jim Bob. Hannibal's litter-mates were Face, B.A and Murdock. He and his litter-mates survived to adulthood. He started to rove at other groups with some other Vivian males. Hannibal left the group with Kudu, Boba, Jabba, Richard, Daffyd, Emily Howard, Balders and Currey Fuzz. They males and joined the Balrog.
Hannibal, Kudu and Boba were the oldest males and fougth for dominance. Boba won and became the dominant male. The males stayed a for two months. A few days after the dominant female gave birth some of the males left. Hannibal stayed in the group for a little while and then went roivng again. Hel left with Kudu, Chino, Richard, Daffyd, Emily Howard and Balders. In 2007 they joined the Gattaca where he mated with Risca the dominant female. Risca gives birth on January 26, 2007 to Sober Ana, Atlas, Balboa and Panama. Hannibal didn't joined the Gattaca but kept roving with Richard and Balders. Kubo and Chino soon joined them. Richard and Balders joined another got where Richard took dominance. The other males soon came across another group.
Commandos
Edit
The males joined the Commandos. Nikita was the new dominant female and Hannibal assumed dominance. On April 24, 2010 Nikita gave birth to four pups. Then on July 14, 2010 Nikita gave birth to five pups. Nikita and Hannibal are still the dominant
Community content is available under
CC-BY-SA
unless otherwise noted.