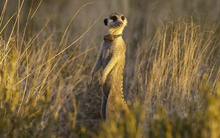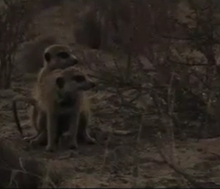 Cupcake Topaz (VTF026) is the fourth and current dominant female of the Topaz Mob. She was born on August 28, 2010 to Mila Topaz the dominant female of the Topaz Mob. She had two litter-mates Violet (VTF027) and Flash (VTM030). They were the first litter belonging to Mila and were fathered by an unknown male. Lightning, their uncle, was the dominant male of the group at the time of their birth. All three pups survived and lived to maturity. In 2011, Lightning contracted TB and died. Flash, Cupcake's brother, became the dominant male but breeding in the family was impossible. Her mother Mila would give birth a few more times and Cupcake would take care of the pups and be a good babysitter to them as well. Life seemed to be going well until her mother Mila was predated on November 1, 2015. Lyric, Mila's little sister became the dominant female. Lyric was just like Mila in the fact that they both ruled with an iron fist. In early June of 2016 Lyric was pregnant with her third litter of the year. Unfortunately Cupcake and her two sisters: Violet and Pink, had all fallen pregnant to roving males from the Crystal Mob: Grinder, Blackclub, and Blackspade. The three pregnant females were evicted by Lyric. They all lost their litters shortly after that. On July 18, 2016 the females were allowed to return into the family. On July 25th Lyric was bitten by a Pitt Viper and Cupcake didn't miss her chance to steal the position and attacked Lyric, that night Lyric died. Cupcake then assumed the position of dominant female. On July 28 Cupcake mated with a roving male from the Bikini Bottom Mob named Zoepo. On July 31 it was discovered that Allison and Ellen had both fallen pregnant due to roving males from the Amerson Mob: Apollo and Bookie. Cupcake showed that she was dominant and asserted over both of the females, but she seems to want to let them stay. Currently she is pregnant (discovered on August 25) with Zoepo's pups. Allison and Ellen recently had a mix litter of seven pups on September 3rd of 2016, Cupcake has shown that she doesn't mind the new pups. On October 6th 2016 she gave birth to four pups.
First Litter born on October 6, 2016: Fathered by Zoepo
Butterball (VTM047), Kenneth (VTM048), French Maid (VTF043), Paranormal Witness (VTF044)
Community content is available under
CC-BY-SA
unless otherwise noted.