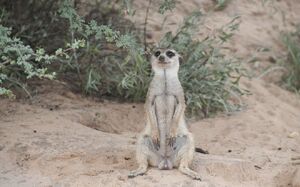 Wild Group
Edit
Claw and His litter-mate brother Soren were two rovers roving the desert.They had been unsuccesful at roving but while roving one day, they saw two beautiful meerkats. A Lost whisker female and a evicted Ashpodel female. they then formed a union called the Leopards.
Claw being a ambitios meerkat, wanted to be dominate male but his brother Soren beated him to it. Claw and his nephew Pirate Sarge rove alot and Claw has visited many groups such as the Young Ones. He soon returned to the group with his nephew. But in another group split his life long ambition came about.
Claw was the oldest male in the group split and eventully became dominant male along with Kamber as dominant female. Kamber was soon pregnant but in that time she aborted. But soon Kamber recovered and was pregnant again but was overthrowed by Claw's niece Lily. Lily was pregnant from roving male. The group then had a incounter with their former family anmd instead of fighting Claw and the Deltas rejoined the Leopards. Claw then went roving again and a 70 days later his first litter was born in the shape of Asha, Koda, Jasmine and Leah.



Community content is available under
CC-BY-SA
unless otherwise noted.