Bruno Barbarians

Mob(s)

Dominant

No

Date of Birth

December 14, 200

Parents

Beatrice and Baker

Litter-Mates

Blake, Brook and Bree

Mate(s)

None

Children

None

Known For

First born Barbarians male

Also Known As

Barbarians' Casanova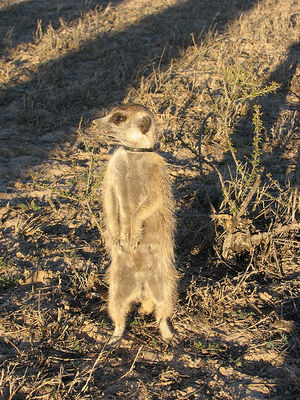 Barbarians
Bruno(VBRM001) was born on December 22, 2008 in the newly formed Barbarians Mob. His mother was Beatrice, the dominant female and his father was Baker the dominant male. Bruno's litter-mates were Blake(VBRM002), Bree(VBRF003) and Brook(VBRF004). They were the first litter born in the Barbarians. They survived to adulthood. Beatrice kept producing litters. On April 7, 2008 Beatrice gave birth to a new litter of pups, Big Ben, Beth, Baron, Bonny, Baxte and Brandy. They pups survived. The next month Bruno's father Baker lost dominance to his litter-mate brother Miles. On June 17, 2008 Baker was predated by a wild cat. He was seen defending his son Baron from the cat. Tabatha cared him away but Baker was killed. On August 10, 2008 Beatrice gave birth to Mike, Macy, Malcolm and Barbra. They survived as well. Later on Miles was predated on September 29, 2009 by a hawk leaving Karim as the dominant male. Tabatha gave birth to Tiger, Kitty and Tabby on October 17, 2009. Sadly Tabatha was predated December 10, 2009. Beatrice gave birth to Kyle, Kenny, Wendy, Stan and Eric on January 25, 2010. They were Karim's first litter. Bruno went roving for the first time with Blake. They roved at the Troopers, Iguana and Yoshies. Fizgig gave birth to three pups on March 12, 2010. In May 2010 Beatrice gave birth to four pups. Then in February they roved seven times together at the samel mobs. The males chased them away. Bruno and Blake then were seen at the Troopers three times and at the Iguana six times. Bruno and Blake became known as the Barbarian Casanovas, showing he is a lover not a fight like the other Barbarians. In August 2011 Bruno went roving with his brother Blake and younger brothers Barron, Mike and Tiger.
Aristocats
The males came across the Aristocats Mob when all the adult males were roving. With no adult males in the group, the five rovers found it easy to make their way into the mob. The dominant female was Dutchess. Bruno and Blake were the oldest of the males, same age and same size so they competed for dominance. At first it looked that Bruno would take dominance but after displacing his brothers, Blake finally forced him into submission and took the dominant male position. Bruno soon returned to his favorite past-time,  roving. Bruno is still alive today in the Aristocats.
Family
Mother: Beatrice
Father: Baker
Brother: Blake
Links
Community content is available under
CC-BY-SA
unless otherwise noted.