Bruce
(VCBM001)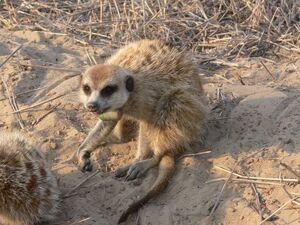 was first seen in December 2008 as a semi-habictuated rover. He was seen roving after at other groups including the
Aztecs
 where he mated with the dominant female
Monkulus
. He soon teamped up with a wild male, a
Hoax
 male and a
Toyota
 male. The four males came across the small
Sequoia Mob
. The group was made up of two adult females and a half full of pups. Bruce established dominance before Benzedrine. Together they started to have pups while the other males conituned to rove. The group split in 2009 leaving the Sequoia very small, however Benezdrine started to have successful litters father by Bruce. With his roving days over, Bruce remained by Benzedrine's side as the dominant male of the Sequoia for the next three years. In 2012 the Sequoia experinced a group split with gave rise to the
Üderkatz
. Bruce and most of the Sequoia members were in the spliter. Bruce retained his dominance however his daughter Tina established dominance. Seperated from Benzedrine, Bruce had no one to mate with so he and most of his eldest sons took to roving and rejoined the Sequoia. The males chased off the two Aztecs males who had taken residents there, and Bruce re-established dominance beside Benzdrine. However she was soon lost and RU, the daughter of Finn a founder of the Sequoia, established dominance. Bruce didn't seem to be interested in mating with her, even though he may have been unrelated. He started to rove again, however due to his old age, he had a hard time finding a new mate. Bruce remained as the Sequoia's dominant male until he succumed to disease in August. Several of his children by then had dispersed to other groups allowing his blood-line to live on.
Community content is available under
CC-BY-SA
unless otherwise noted.