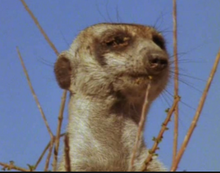 Bertha Topaz (VTF002) was the first dominant female of the Amerson Mob. Her life before 2001 is unknown as she was a wild Meerkat at the time. She was around one year old when she, another female (possibly her sister), and 3 males formed a group called The Topaz Mob. Bertha tried to become dominant but was beaten by the other female named Ruby. She spent most of her time in the mob babysitting and taking care of Ruby's pups. She mated with one of the 3 males and became pregnant. In May of 2003 she and Ruby had a mix litter of 7 pups: Dante, Virgil, Guitar, Big Red, Silver, Leo, and Latin. In September of 2004 she found herself in a splinter group.
Amerson Mob
Since Ruby wasn't there Bertha was able to take dominance over the splinter group. The splinter group never joined back up with the main group and the split remained permanent. The new mob was called the Amerson Mob. Bertha's possible nephew, Galaxy become the dominant male by her side and the two produced multiple litters. In 2010 Bertha passed away due to old age. Her daughter Lilly became dominant female after her.
Litters
First Litter born on May 15, 2003, Mix litter with Ruby
Dante Topaz (VTM009), Virgil Topaz (VTM010), Guitar Topaz (VTF011), Big Red Topaz (VTF012), Silver Topaz (VTF013), Leo Topaz (VTM011), and Latin Topaz (VTM012)
Second Litter born on April 3, 2005, Fathered by Galaxy
Sabor Amerson (VAF001) and Lilly Amerson (VAF002)
Third Litter born on November 22, 2005, Fathered by Galaxy
Sissy Amerson (VAF003), Bubba Amerson (VAM001), and Belle Amerson (VAF004)
Fourth Litter born on August 15, 2006, Fathered by Galaxy
Vader Amerson (VAM002) and Kira Amerson (VAF005)
Fifth Litter born on December 23, 2006, Fathered by Galaxy
Asia Amerson (VAF006), Paris Amerson (VAM003), and India Amerson (VAF007)
Sixth Litter born on August 3, 2007, Fathered by Galaxy
Eddie Amerson (VAM004) and Balem Amerson (VAM005)
Seventh Litter born on October 12, 2007, Fathered by Galaxy
Lady Bug Amerson (VAF008), Eris Amerson (VAF009), and Hego Amerson (VAM006)
Eighth Litter born on April 24, 2008, Fathered by Galaxy
Waterfall Amerson (VAM007) and Rose Amerson (VAF010)
Community content is available under
CC-BY-SA
unless otherwise noted.