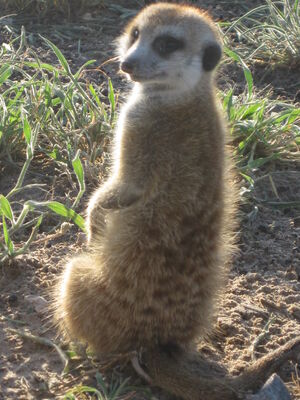 Barodius
(VVXM025) was born on December 27, 2004 in the
Vexos
. His mother was the dominant female
Naga
and his father was the dominant male
Volt
. His litter-mates were his one sister
Kazarina
(VVXF026) and two brothers Gill(VVXM027) and Ren(VVXM028). They were Naga's third litter ever born in the Vexos. Being the son of the dominant pair, Barodius and his siblings were well looked after. All four pups survived to their first years and started taking an active role in the mob. Soon all the older males left the group in 2007, Barodius became one of the oldest males along side his two brothers. Naga evicted all the oldest females adn Kazarina beca,e the oldest subordinate female. Barodius started to spend most fo his free time roving. Sadly in February 2008, Naga died after being bitten by the snake. Kazarina became the new dominant female. Volt started to go roving with hsi sons since he could not breed with his daughter. In June Volt was found dead and Barodius being one of the oldest males established dominance. Barodius is still in the Vexos today.
Community content is available under
CC-BY-SA
unless otherwise noted.