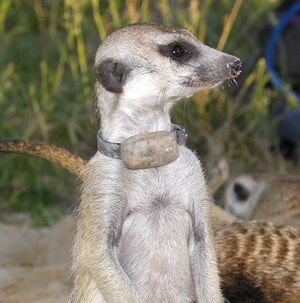 Artemis(VWF010) was born on November 28 1998 in the Whiskers. Her mother was Piglet. Her litter-mates were Aphrodite(VWF009), Lancelot(VWM007) and Jean Luc(VWM008). Piglet was evicted with her sister Brambles and her neices Mufassa and Rafiki, and Risca all females but Risca disapeared they most likely teamed up with wild males. Her bothers started to rove. They both left the group after two years in the Whiskers. Artemis gives birth on September 20, 2000 to Misfit(VWM030) and Ugly Pup(VWF031). In October 2000 Misfit joined the Young Ones mistaking them for his family. Artemis gave birth on January 15, 2000 but her litter was lost. Aphrodite gave birth on February 17, 2000 but her litter was also lost. On January 19, 2001 Artemis gave birth to three pups Rydapunani(VWF034), Dangerous Dave(VWM035), and Mi Julie(VWF036). May 24, 2001 Risca evicted Aphrodite and Artemis. They were courted by a Lazuli rover Tony and a Balrog rover Pangolin. Aphrodite and Artemis never return to the Whiskers. They formed a new group but the males were ousted by Vivian males and Lady Kat soon joined the new group.
Harlequin
Edit
The new group was called the Harlequin Mob. Tony and Pangolin left the group. Instead Humphry took over as dominant male. Aphrodite took female dominance over Artemis. Both were pregnant by the former two males they were with. Artemis lost her litter while Aphrodite gave birth to Katsuo, Tomoe and VHQP003 on December 12, 2001. Sadly on January 17, 2002 VHQP003 was predated by a hawk. Aphoridte gave bith but lost her litter. Lady Kat gave birth to Aphrodite gave birth to Book, VHQF005 and Luigi. Artemis over threw Aphrodite and became the dominant female. On August 13, 2002 Artemis gave birth to Keyah and Dorian. Artemis gave birth to Tobi, Rin and Kai on Decemder 28, 2002. Artemis aborthed her next litter. She evcited her sister Aphrodite and Lady Kat. Aphrodite disappeared but Lady Kat rejoined the group. Artemis gave birth to Morrow and Darius on July 3, 2003. On November 28, 2003 Artemis gave birth to Jiangshi, Aku, Kaji, Pollyanna and Kalin. Artemis gave birth to three pups May 4, 2004. Artemis is still the dominant female of the Harlequin.
Community content is available under
CC-BY-SA
unless otherwise noted.